Video Mapping, 3D Photogrammetry, Anamorphic Images, LandArt
2014

SIDACTION, Palais des Sports, Paris
Video mapping on a TV stage based on 5 video projectors BARCO 26k, 16/10, 1920x1200px.
Media server and image production : SMode by D/LABS
Yannick Noah share his stage during his last tour to record a part of SIDACTION (Recognized as a non-profit AIDS prevention organization, Sidaction develop programs of research and help for the sick) at "Palais des Sports" in Paris, France.
My job starts with the modeling of the stage.
On the right you can see the 5 video projectors point of view in two ways : projecting a pixel grid and in texture mode.
Note that when the grid is projected you can easily appreciate the over lapping between the projectors, and so the size and shape of the gradient that will achieve the soft-edge.
Below you have the video projectors point of view inside the image circle and see the lens shift (in this case all projectors are shifted up 100%).
I made those kind of images that will take place into a pdf toolkit that helps the technicians during the installation.
I can find here enough room to include all crucial informations about each video projector, such as the brand and model, the kind of lens, the zoom position and vertical inclinations.
There is no value for the lens shift but you can physical see it in the images.
Technicians have to set it up manually on each projectors before adjusting their inclinations.
Below you have the projection texture, the image used to map the 3d model of the stage.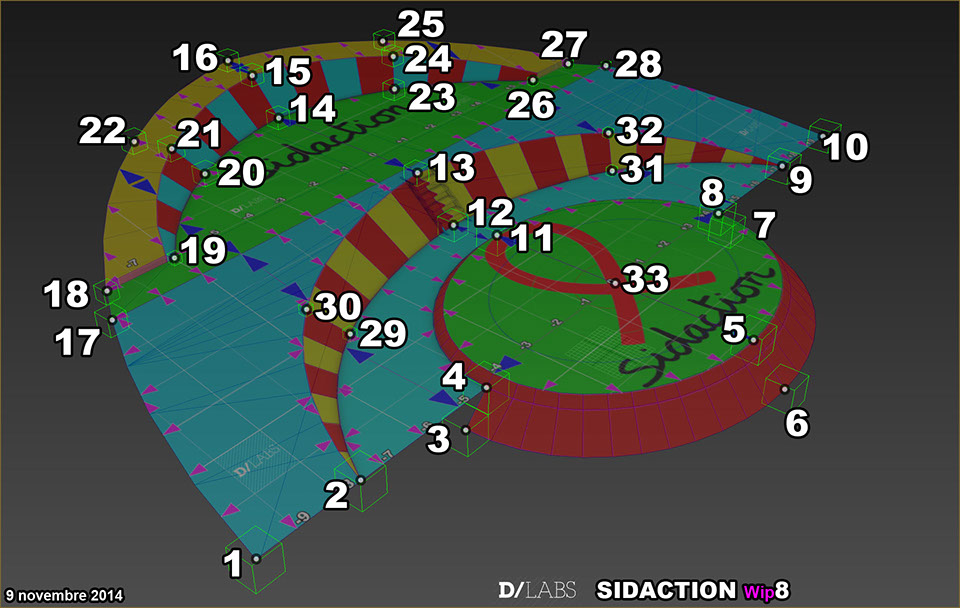 In the picture above you have the 3d stage with a lot of numbered null cubes. Those points are used by the SMode to set and calibrate the position of each video projectors in the real life.
This because the SMode works in 3d real-time, handling the 3d model and the texture.
On the right you have a screen-shot of the SMode interface durig the process.
If you are interested on real-time video projection here you are a link to another job on my site : Château Fontaine.
Below you have some 3d images of the installation, include video projectors position and inclination.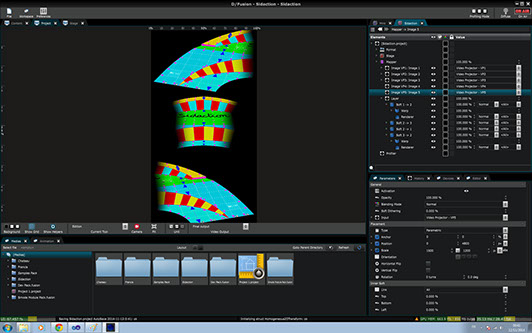 And here you are some photos of the installation on site :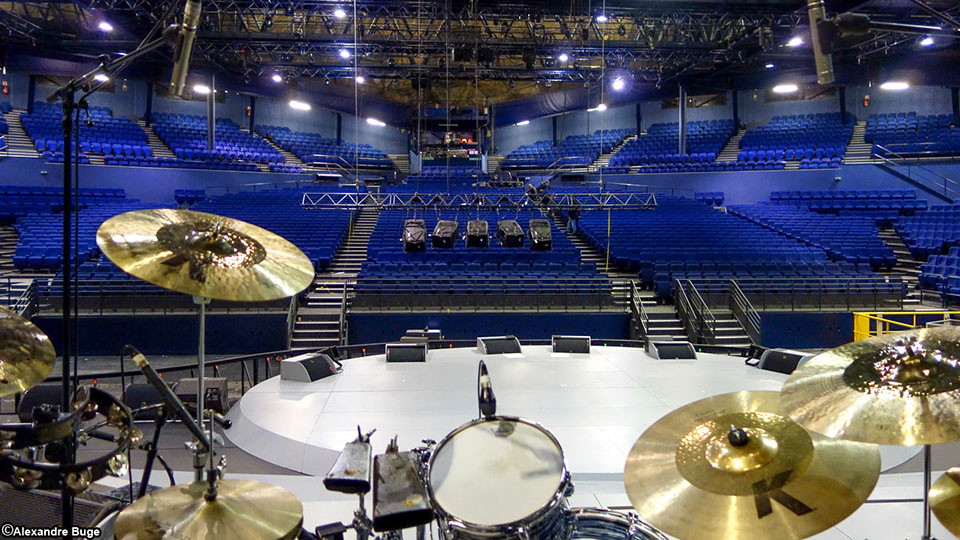 And some others photos of the stage ready to play.
Many thanks to Alexandre Buge from D/Labs for those photos of the stage
mapped with the texture that I made.