Video Mapping, 3D Photogrammetry, Anamorphic Images, LandArt
2009

Anamorphose - Métamorphose at Saint Germain en Laye, near Paris, France
" Anamorphose - Métamorphose ", " Anamorphosis - Metamorphosis ", that's the title of this double artwork signed by François Abelanet, the "anamorphiste".
My task is to translate the deformations of the cube and the sphere into cad files and give indications on how to create an anamorphic grid on the ground.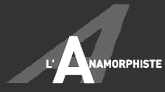 two images in the same lawn, in a diagonal appears a cube, a sphere appears in the other diagonal!
"An anamorphosis is a distorted image that regains its original proportions and makes sense when viewed from a certain angle"
Walk on a work, stretch on art ... the walkers of the Castle Park of Saint Germain en Laye will be amazed.
In the heart of this astonishing project, an immense grid in anamorphosis that will offer its illusions to curious passers-by.
Raw material: grass, milions of blades of grass, the lawn of the park of Saint Germain. Green of course, but not the same green everywhere.
Certain parts will be darker than others: here a greener green, there a lighter green , thanks to organic contributions.
The white lines help to better contrast the two shades of green and voilà, the images appear.
The following photos were taken weeks after closing and we can still see the design on the lawn and people still taking photos